My VW/Audi Diesel Buyback Experience
Up until last week, I owned one of the VW diesel's that have been all over the news for the past year. Mine was a bit different than most, since it actually had an Audi badge on it, so few people knew it was actually one of the affected cars. This allowed me to avoid many snarky comments, especially from the rather environmentally conscious folks in my city. Upon discussing the scandal I've had more than one person comment "at least your diesel is an Audi and not one of these VWs."
Back in 2010 I had a long commute and was in the market for a new car, so I chose a brand new 2011 A3 TDI diesel. It was a fantastic car, well equipped and comfortable, with amazing gas mileage - I averaged over 41mpg for the first few years (more on that later). In 2010 it also won "Green Car of the Year."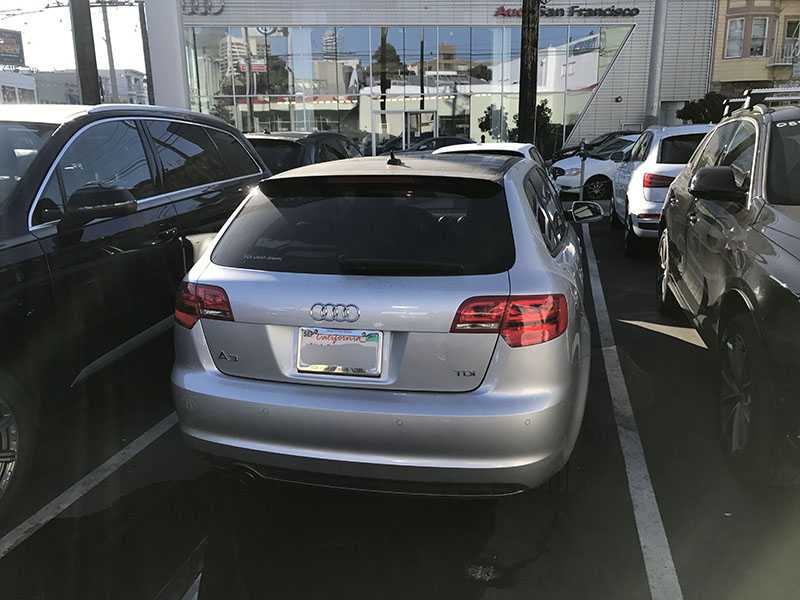 Notice the little "TDI Clean Diesel" sticker in the back window. By the time the scandal hit the car was over 5yrs old and that sticker was fused into the glass. I thought about scraping it off, but left it on for the irony.
Warning Signs
The very first sign that something wasn't quite right was a letter from Audi in April 2015. It mentions an important update to the engine control software is required. The issue was relating to emissions systems, and that it supposedly could result in a check-engine light causing a failure of emissions testing. Plus, it was serious enough for a recall not just a standard service bulletin that would be applied next time I took the car in for service.
I took the car in and the recall work was performed. Instantly average fuel economy went from 41mpg to 38mpg with the same driving profile. Thanks Audi. Looking back, I can't imagine this wasn't related - engine control software, and its performance during emissions testing. Sounds familiar.
In the summer of 2015 I almost traded it in on a new car. I wanted something a bit bigger and more luxurious. Audi dealerships offered me lousy buyback rates ($13K) compared to BMW/Mercedes (around $17-18K), almost as if they felt the car was worth less than market price. I honestly wonder if they knew this was coming well in advance of any public announcements.
Then the scandal hits. Well, there's no selling the car now.. let's ride this out. By this time I've owned the car for almost exactly 5 years, and the little "TDI Clean Diesel" sticker on the back window that came with the car is fused into the glass and can't be removed without serious effort. I left it on for the irony.
The story of how the scandal played out has been extensively reported, so I won't cover it here, this is more about what it's been like as an owner.
The Portal
VW put together an online portal site where all the steps of the claims process were handled. Everything I sent them was scanned and uploaded. No mailing or faxing required, as it should be in 2016. The whole thing was very well done. The online site was clear, and the claims portal for submitting documentation was easy to use.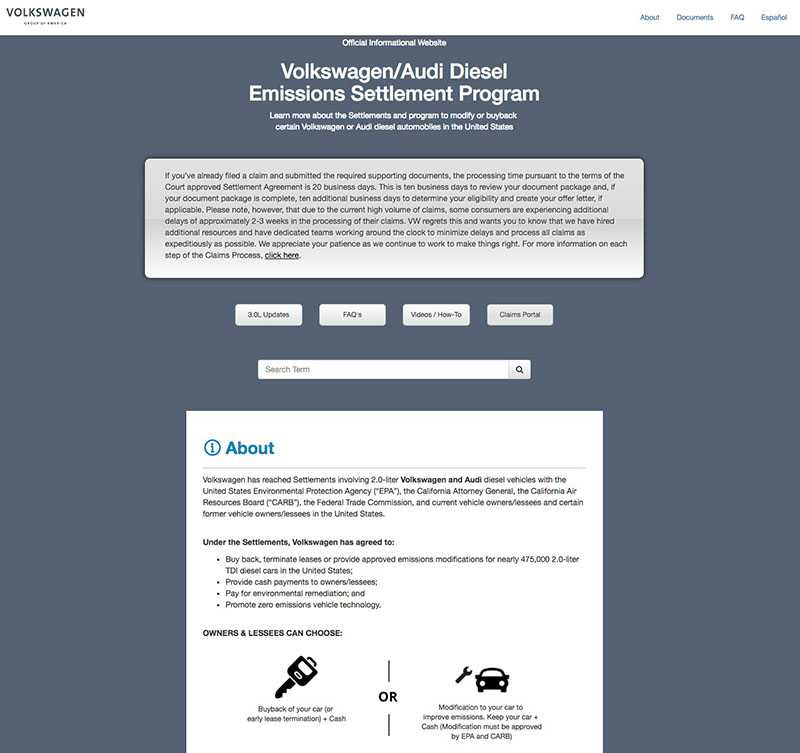 My Timeline
Nov 9, 2015 - Audi/VW offers a goodwill package to 2.0TDI owners. It consists of a $500 visa debit card, $500 to spend at Audi dealerships (it bought me 1 service on the car), and 3 years of Roadside Assistance including "Disablement Coverage" that will pay lodging/meals/transportation costs should the vehicle be disabled more than 100 miles from your residence (up to $1000 per occurrence).
August 9th, 2016 - Notification that the online portal is accepting initial info.
October 10th, 2016 - Notification that documents can be submitted through the online portal.
October 12th, 2016 - I submit the requested documentation - vehicle title, current registration.
October 28th, 2016 - Official settlement announcement of court approval.
November 4th, 2016 - Notice that my Offer Package is complete and can be downloaded through the online portal. It requires some forms signed and notarized.
November 15th, 2016 - I submit my notarized package. Some confusion here about notarizing forms in California, there's an extra form that needs to be filled out which wasn't clear and caused me to have to go back and get my package notarized a second time.
November 16th, 2016 - I re-submit my notarized package with the right California form.
Nov 26th, 2016 - Notification that my offer letter has been accepted, online portal allows scheduling of buyback appointments
Dec 6th, 2016 - I schedule my appointment for Dec 22nd.
Dec 22nd, 2016 - My buyback appointment.
Dec 23rd, 2016 - Payment notice.
The Buyback Experience
I was expecting this to be a typical dealership experience, where everything is slow, there's tons of back and forth and it takes forever. This was not the case at all. I arrived a few minutes late for the appointment, and walked inside the dealership. It wasn't done at the local Audi dealership, but at a VW dealer (same dealer network as Audi in SF actually and right across the street), which makes sense since the majority of vehicles affected were VW. Inside I was met by a friendly guy named Felix, who is a dedicated specialist for the buybacks. The dealer I went to in downtown San Francisco was doing 13 buybacks today, and 15 tomorrow.
The process was completely painless. I had the required items - the car, the keys, the title, and my ID. The specialist took the keys, went out and checked out the car, and I think took some pictures. He was back in 5 minutes. Then I signed two forms, gave them the title to the car, and that was it. I didn't even have time to finish the tiny bottle of water I was offered as I walked in. There was no sales pitch to buy a new car, which I had expected (and did want to buy something new).
The Numbers
Here are the specs on my car.
2011 A3 TDI
43318 Miles
Premium Plus Package
Kelly Blue book says that the price I should expect to get from a dealer on trade in is somewhere around $16,000 for a car like that in "very good" condition (the exterior and interior were both in good shape). Except for a couple things. 1) There's a clunking noise with the front suspension, something is definitely wrong or wearing out. 2) The car needs new tires, there's barely any tread left. 3) The car recently started blowing black then white smoke from the exhaust while on the highway a few weeks ago. Hasn't happened again, but I barely drove the car after that. A mechanic is definitely bound to figure out there are some problems with the car a knock a few thousand off it's value. But the nice thing about the VW buyback program is they don't care about any of that. As long as you're not a jerk and strip the car, it's OK if it's got mechanical problems. That doesn't factor into the buyback amount at all.
Here's how they broke it down for my car:
| Item | Amount |
| --- | --- |
| Vehicle Return Amount | $21,450.00 |
| Additional Restitution Payment | $ 7,276.73 |
| Total Amount | $28,726.73 |
Add to this the goodwill package, and the total nears $30K. VW gives the option of getting a check, or electronic funds transfer, which is what I chose. A day after I dropped off the car I got this email. Unfortunately Gmail flagged it as Spam initially, but thankfully I was watching out for it. Unfortunately, there was no option to receive the funds in stacks of $100's, or a duffle bag filled with $20s, or I would have opted for that instead. It would have made a better story.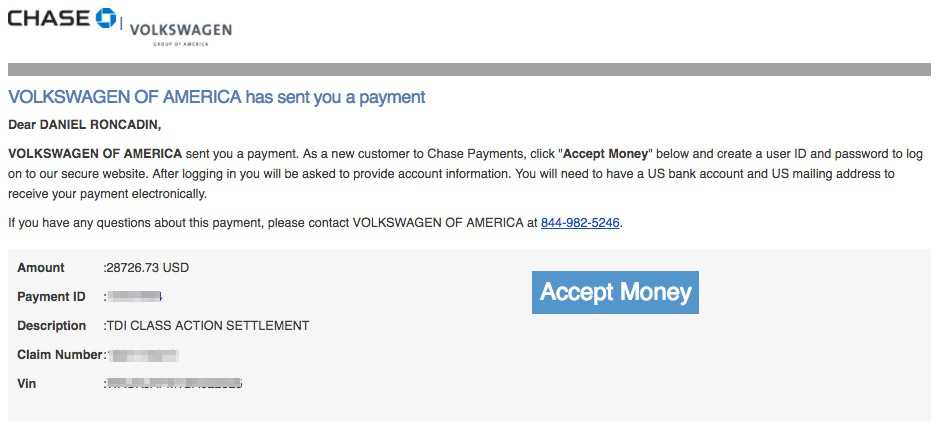 The End
The scandal was a downer, it really ruined what was, up until then, a fantastic car I really enjoyed owning. But I must say now, VW/Audi really did right by me. The entire process for making a claim and selling back my car was as clean and efficient as the car was supposed to be. The price was also extremely attractive. Getting over $10K more for the car than I would have gotten a year and a half ago before the scandal is quite amazing. In the end, Audi kept me as a customer as I walked across the street into the dealership and ordered a new A4 Allroad, which after the buyback will cost me about as much as a Honda Civic.