What Happens When Your Comcast Promotional Rate Expires
Two years ago I negotiated a 2-year contract with Comcast for about half the price I was previously paying. The post I wrote up on my experiences, has become one of the most highly viewed pages on this site, still getting over 1500 views per month, even after all this time. I hope it's helped many of those readers reduce their own bills. However, nothing lasts forever. As a few of the commenters on that page suggested, once the 2 year period expires, I might not be able to keep the low price I'd been paying. Sure enough, I eventually got the following email.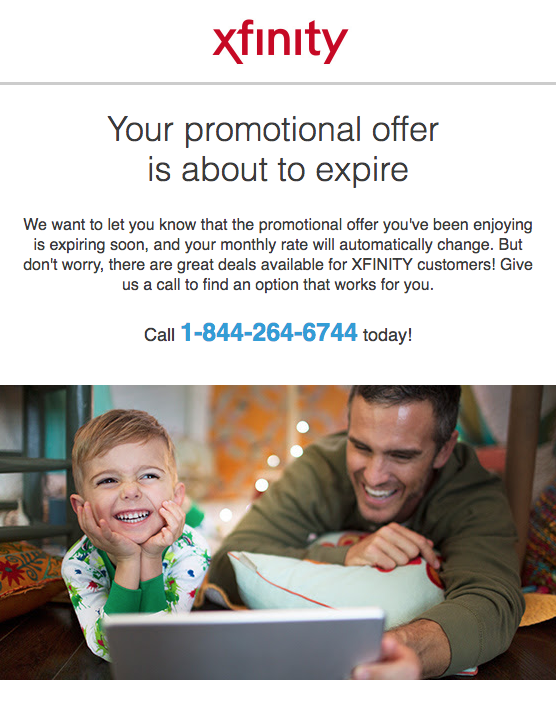 Don't those people look way too happy to have just found out their bill is getting jacked up? I was nowhere near that elated when I got the email. Perhaps they're shareholders.
Last time I negotiated my rate, I went into the Comcast office, but to be honest, I was feeling a bit lazy and thought I'd try giving their customer service line a call before taking the time to go there in person. So I called the number in the email. I was all ready for the tough negotiating to begin, ready to threaten to cancel my service and take a hard line. But right away they offered to look at what further promotional packages were available. Within 5 minutes the agent offered me nearly the same deal I already had on a 1 year term. There were a few things I didn't need from my existing package so I had them adjust it slightly and in under 10 minutes it was all done.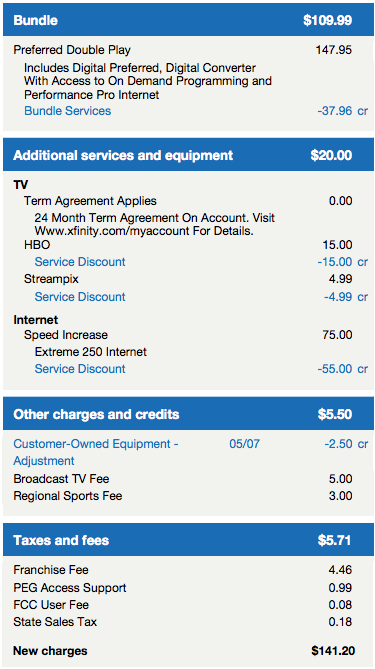 | Billing Item | Old Amount | New Amount |
| --- | --- | --- |
| Bundle | $109.99 | $99.99 |
| Additional services and equipment | $20.00 | $20.00 |
| Other charges and credits | $5.50 | $9.50 |
| Taxes and fees | $5.71 | $4.70 |
| Total | $141.20 | $134.19 |
In the end, I got my bill lowered yet again, although this time around I did drop some channels. I got rid of the formerly free HBO they had given me, but I never actually watched, and a few of the "preferred" channels that I also never watched. This time around the promotional period offered was for 1 year. I asked what the bill would be once it expires, and was told over $200/month, but also that I should just call back next year and they'd find another deal for me. I am actually OK with the 1 year term this time around instea of 2 years. I'm getting pretty close to not needing cable TV at all, and I plan to go internet-only next year when this term expires.