How I Cut My Comcast Bill In Half
Update 2017-12-20: It's been two years now since I got the rate drop from Comcast, if you want to find out what happens when the promotional rate expires, I've got an updated post on that.
First off, let me just say that I may be in the small minority of people who have nothing at all bad to say about Comcast service. Since I moved to the Bay Area, I've had Comcast TV/Internet service in 3 different locations and each time it's been nearly flawless, with fast Internet speeds, extremely responsive and prompt customer service. On the couple of occasions I've needed a tech to come out for an installation they've been on time. The only issue I have ever had, is the price. Because it gets expensive, especially if you want the fastest possible Internet service, which I always do. After signing up for the new 250mbps tier and getting a bill for nearly $250, I decided it was time to see if I could improve the situation. A friend told me he had some success in going to the local Comcast service center and talking with them, so I figured it was worth a shot.
The Old Bill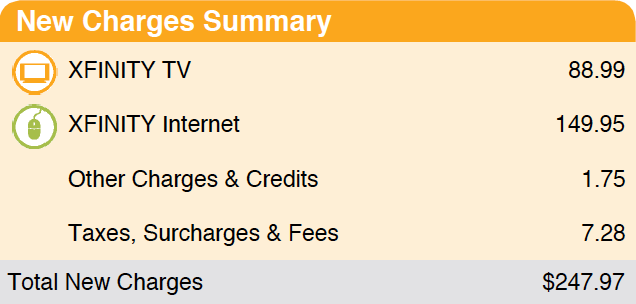 Xfinity1 TV - Digital Preferred $88.99 (the middle channel package, with about 140 cable channels including HD)
XFinity Internet - Extreme 250 $149.95 (250mbps upstream, 25mbps downstream - though I get closer to 300mbps/30mbps in reality)
Other Charges and Credits $1.75
Taxes Surcharges and Fees $7.28
Total Cost - $247.97
Ouch. That bill hurts, though I am absolutely in love with he Internet speeds. I could really do without the TV, I don't watch it often except for live events. I considered just canceling the TV service all together and only paying for the Internet. In the end I got both together for even less than I would pay for that Internet package alone.
Note - I was already using my own modem, so a modem rental fee wasn't included in the old or new bills. Paying $10/month to Comcast for a $90 piece of equipment that lasts years is silly. However, to their credit, Comcast makes it extremely easy to buy a new modem and set it up on their network. The Netgear CM500 I bought has been flawless, and doesn't even require calling customer service to be activated.
The Visit to Comcast
In I go to the Comcast service center. It's possible I could have accomplished this over the phone, but I thought I'd give myself the best possible chance by talking with someone face to face. The San Francisco Comcast office is a busy place, so I signed in, and ended up waiting 35 minutes to speak with someone.
I started off just explaining the situation - my bill is too high, asking what options I have to lower it, adding that I'm considering reducing the TV service. The Comcast representative was very nice and friendly, looked up my account, and then immediately asked me - "Would you be willing to sign a 2 year contract?" (she added that it's transferable if I were to end up moving). My reply was that it would depend on how much the price difference was, since included in most contracts is some termination clause. Now we get to the good stuff - the price. Digital Preferred + Extreme 250 Internet - $109.99/month for months 1-12 and $129.99/month for months 13-24. $230 early termination fee (declining by $10 each month beyond 1 that the contract is in place). This wasn't a difficult used car sales type of negotiation, I didn't have to go back and forth with them at all, and there was no speaking to the manager. I just asked for a better price, and they came right back with that discount on a 2 year contract. Anyone could walk in and do this. Everyone should.
The New Bill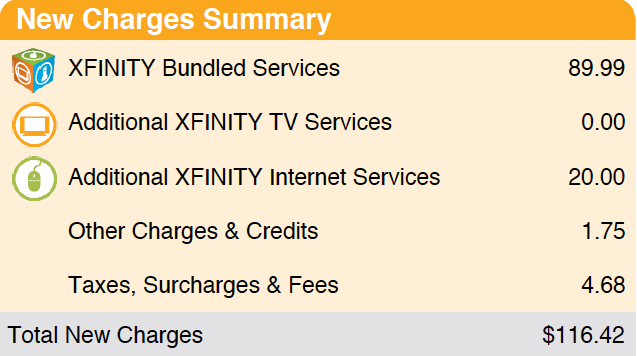 Xfinity Bundled Services - $89.99
Additional Xfinity TV Service - $0 (they threw HBO in there at $19.99 with a 100% discount, and my guess is that's what's going to kick up the bill by $20 for the second year)
Additional Xfinity Internet Services - $20 (additional charge here to increase speed to 250mbps)
Other Charges and Credits - $1.75
Taxes, Surcharges and Fees - $4.68
Total Cost - $116.42
That's a 53% discount! Even in month 12 when the bill goes up $20, it will be 44% cheaper for an average savings of 48.5%. And I get HBO now where I didn't before.
Textbook Price Discrimination
So, what we've learned is that Comcast is willing to drop their price by about half for customers who are willing to ask for it. Yes, in return they are getting some guarantee of future revenue, which has some value. However, most customers don't cancel their cable or Internet on a regular basis, so it's very hard to justify the massive cost difference just on the value of guaranteed future revenue. There is a termination fee, but at $230 it's only about 2 months of service fees, and furthermore it's offset by savings at the new rate after just 2 months. If I canceled in month 3 I'd be even with what I would have paid for those months without the new rate, and keeping service under contract for anything beyond 3 months I come out ahead. Calling it a "contract," is just an excuse to offer two tiers of pricing on the same service.
What it leaves us with is a situation where Comcast charges much higher fees to those who don't pro-actively push for savings. Classic Price Discrimination. Customers who aren't price sensitive are going to continue on with their service and those who aren't are going to try and cancel or otherwise ask for a lower rate and be offered something that they're more comfortable paying. Comcast wins both ways, as they keep customers but make extra money from those who have it.
I refuse to use all caps for Xfinity. ↩